This band is awesome live!


MATCHBOX TWENTY LIVE: RULES
> No Laser Pointers
> No Camcorders
> No Audio Recorders
> No Professional Cameras (SLR, Detachable Lenses or Flashes)
> No Digital Still or Video Cameras
> No Flash Photography of any kind
> Disposable/Single Use Cameras are ok with tour security, however each venue has their own policy about cameras. Those policies may be more restrictive, and as such may lead venue security to confiscate people's cameras.
> Stand in front of your chair and not on your chair or on someone else's shoulders.
> Please keep the aisles clear at all times.
MEET AND GREET RULES
> 2 things to get signed MAX per person
> No camcorders or audio recorders
> Turn off your cell phone.
> If you bring a camera, be sure to return it to your vehicle before entering the venue.
The meet and greets are put on by the local radio stations. The only way to get them is to win passes on the radio.
I've seen Matchbox Twenty live three times and it gets better every time. On this page I'll talk about the shows I attended and also post other reviews of their concerts.

September 23, 2000 - R.P.I. Field House - Troy, NY
I arrived at the show just as the Jayhawks were finishing up their set which meant Matchbox Twenty was up next. I quickly bought my "Mad Season Tour 2000" T-shirt and poster for a grand total of $50 and ran back to my seat. Just as I sat down Michael Jackson's "Don't Stop Till You Get Enough" came on (background music) and some fat guy on the floor treated the crowd to a hilarious dance. Shortly after that the lights dimmed and I halted conversation with my girlfriend and sister to listen to their first song. I was kinda surprised to see them start off with "Bent" but it was great. I was kind of disappointed that they didn't play "Bed of Lies" but the concert still rocked! My seats weren't that great so I couldn't see the band up close like I did at Jones Beach in 1998. Ahh well, Rob Thomas said some funny shit like: "When we play colleges, it's a bunch of hockey arenas. It's like Matchbox Twenty on ice! When we came in here we were freezing our balls off. Now I'm bitching about how hot it is" + "That was Tom Petty, so you know. He's got a bunch of fucking records out, so go buy one cuz he's cool" (after American Girl cover song) + "When y'all go out, please stop by the Rock the Vote booth. I know our choices are Bush and Gore, but one of these assholes are gonna be president sooner or later, so you might as well vote for one of them. Or if you don't even do that, just say 'These choices suck'." During the show someone threw their boxers on stage and Rob said, "Why would you throw your boxers onstage? Let me ask you this, if these are yours, what are you wearing now?" It was great to see such a diverse crowd of teenagers, adults, and different races. It was the type of concert where you just wanted to take in the music and savor the flavor instead of jumping around like you're on a pogo stick. I can't wait to see them again, which will be at Jones Beach once again on June 24th! The night before I return to Albany for my sophomore year of college...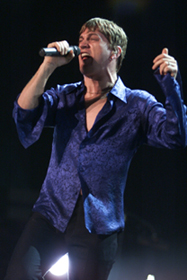 Matchbox Twenty LIVE
Matchbox Twenty is currently touring with special guest Train! Below are the dates:

7/31 Fargo, ND - FargoDome
8/1 St. Paul, MN - XCEL Energy Center
8/3 Chicago, IL - Tweeter Center (The World)
8/4 Cleveland - Blossom
8/5 Toronto, ON - Molson Amphitheater
8/7 Indianapolis, IN - Verizon Wireless Music Center
8/8 Columbus, OH - Polaris Amphitheater
8/10 Detroit, MI - DTE Energy Music Theatre
8/11 Pittsburgh, PA - Post Gazette Pavilion
8/12 Scranton, PA - Coors Light Amphitheater
8/14 Buffalo, NY - Darien Lake Performing Arts Center
8/15 Hershey, PA - Hersheypark Pavilion Stadium
8/17 Boston, MA - Tweeter Center
8/18 Hartford, CT - Meadows Music Theatre
8/19 Saratoga Springs, NY - SPAC
8/21 Holmdel, NJ - PNC
8/23 Philadelphia, PA - E Center (Tweeter Waterfront)
8/24 Wantaugh, NY - Jones Beach
8/31 Atlanta, GA - Hi Fi Buys Amphitheater
9/7 San Antonio, TX - South TX Amphitheater
9/8 Houston, TX - Woodlands
9/9 Dallas, TX - Smirnoff Amphitheater
9/12 Oklahoma City, OK - Myriad
9/14 Little Rock, AR - Allitel Arena
9/15 St. Louis, MO - Riverport Amphitheater
9/16 Kansas City, KS - Sandstone Amphitheater
9/18 Denver, CO - Fiddler's Green
9/20 Salt Lake City, UT - E Center
9/21 Bozeman, MT - MSU Brick Breeden Fieldhouse
9/22 Seattle, WA - The Gorge
9/24 Sacramento, CA - Sacramento Valley Amphitheater
9/25 Concord, CA - Concord Chronicle Pavilion
9/28 Anaheim, CA - The Pond
9/29 Phoenix, AZ - Desert Sky Amphitheater 16




Matchbox Twenty toured Europe in March 2001. Below were the dates:

6/8 Glasgow Hampton Park
6/10 Dublin R.D.S.
6/13 Huddersfield McAlpine Stadium
6/15 Milton Keynes Milton
Keynes Bowl
6/17 Cardiff Millenium Stadium